Alright, typically I recommend products that are for guinea pigs. Or I'll recommend products that are designed to help you with a guinea pig that you own. Today, I have decided to take a different approach. Today I will be talking about a Talking guinea pig toy. These toys are great for kids who love guinea pigs. This is also a great toy to help you float the idea of getting a guinea pig. So let's get into it.
Now, there a load of different versions of this talking guinea pig toy currently out there. For the purpose of this article, I have found the one with the highest reviews currently out on the market. The last thing you want is to buy a toy and have it break down on you a few weeks after buying it. In regards to their being plenty of different options, these come from different suppliers and manufactures all making the same product but at different levels of quality (this is the highest)
Check out our reviews of the best guinea pig toys!
Talking Guinea Pig Toy Features
This toy has quite a few cool little features. But, before I go into the features, Ill just give a brief run down how this talking guinea pig toy by Dragon-i Toys actually works.
So, the toy actually has a little recorded inside of it that plays back anything you say in its own little guinea pig voice. To make it work, hold down the button on the paw and simply record what you or your child wants the guinea pig to say. The talking guinea pig toy will then repeat what you said but in a higher pitched voice. Kids love it!
Keep in mind, this toy does store the recording but instead will simply repeat it. After the talking guinea pig toy repeats what you said, you will need to re-record something else.
Talking Guinea Pig Toy Review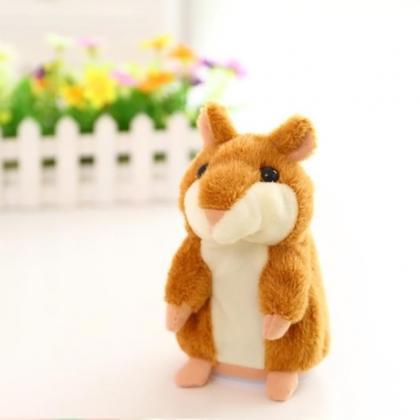 I love it, and so do other people. While the description from the guys who make the toy state that it is for children 4 and up, I think it is a lot wider ranging than that. Personally, I have given it to kids who are younger and it always cracks them up. To be honest, I am known to be a bit of a guinea pig fanatic, so people aren't surprised by this type of gift.
I have actually heard of a few people who are older who also love the toy more for a laugh and bring it out during parties as a gag.
Keep in mind, this toy does require batteries (three AAA). I don't really know how quickly this toy runs through the power, but I haven't had any problems with the power running out as of yet.
Now, one point to note, if you click the button below, it will take you to the toy that is called a 'Hamster' but in my mind, this toy is almost completely indistinguishable from a guinea pig. Now, you want to know what the actual differences between a guinea pig and hamster are, check out this article here.
Why Guinea Pig Toys Are Great For Kids
Personally, I think toys that resemble guinea pigs are great for two things. Number one, they are great for getting your kids introduced to the idea of having a guinea pig. Number two, they can help make your kids even more into guinea pigs.
There are a whole load of different options out there as far as guinea pig toys go. Something that I think is slightly over looked is guinea pig kids books. I have yet to write an article about kids guinea pig books but one of my favourites is called Sammy The Classroom Guinea Pig. Once again, this is another great way to get your kids introduced into the idea of guinea pigs and maybe even owning guinea pigs in the future.
Guinea Toys For Guinea Pigs
Now, if you were actually interested in toys for guinea pigs and not people, or also interested in something for your guinea that is not a talking guinea pig toy, check out some of my other articles below:
MAKE YOUR OWN GUINEA PIG TOYS.
These are more tailored specifically to guinea pigs rather than people 🙂
If you have any questions please don't hesitate to ask, I love hearing from you guys!