There are so many different different guinea pig cages currently out on the market. Personally, when I first started looking, I didn't know what I was looking at. I didn't know what to consider or what was good value for money. In my Living World Guinea Pig Cage Review, I'll go into depth about all the pro's and con's about owning this type of house as well as host of other information.
Before I Begin
Now, before I get into the nitty gritty about all the aspects of this guinea pig cage/guinea pig house… a few things.
First off, make sure you get the right sized guinea pig cage your needs and your guinea pig's needs (usually the same thing 🙂 ). Living World offer three different sizes when it comes to this particular type of cage. I really recommend that you end up getting hold of the largest sized cage. Guinea pigs need exercise and need to be out and about as much as possible. Keeping them in cage too small is one of the fastest ways to make sure your guinea pig becomes sick and even depressed.
Secondly, cleaning. Make sure you clean this cage as often as you can. Typically, I recommend cleaning the cage at least once every two weeks depending on the bedding (more on guinea pig bedding here). If you want some tips for cleaning your cage quickly and effectively, check out my guinea pig cage cleaning article here.
Alrighty, let's get down to the Living World Guinea Pig Cage review.
Living World Guinea Pig Cage Size 
Alright, so let's get to it. The most important aspect a guinea pig cage/house, at least in my mind, is the size. So, the dimensions for the extra large cage are as follows:
Height: 24 inches/61 centimeters
Width: 23 inches/58 centimeters
Length: 46 inches/116 centimeters
So numbers are all good and well, but how do you visual these sizes? To see some photo's of other buyers with their cages (and to get some context on the cage) click the link here.
So, is this Living World Guinea Pig Cage actually big enough for a guinea pig and if so, how many guinea pigs? In my opinion, this house is perfect size for one guinea pig, as long as you are letting the little guy out and about on a regular basis. Now, if you have two guinea pigs, I recommend getting a guinea pig cage that is a bit larger. Check this article here to find a guinea pig cage for two. Once again, I really want to emphasise how important it is to let your guinea pig out of the cage on a regular basis. Animals are meant to roam around in the wild. It is up to us as pet owners to provide our little guys with an environment and life that is as close to one they would have in the real world.
Living World Cage Design
Now, I'll admit it, this isn't the most beautiful or elegant guinea pig cage I have ever seen, but it's functional. This cage, is designed to be an indoor guinea pig cage. You can tell by the lack of the cover over the cage.
There is an access ramp within the cage to help your little guy get access to the upper level above the hidey house portion. Included in this set up is a non-tip food tray which is perfect for preventing unnecessary mess.
Lastly, while I am not a huge fan of the plastic look, it does make cleaning the cage surfaces a lot easier. Depending on what type of bedding you end up using, simply get everything out of there and hose the house down. This is a perfect opportunity to let your guinea pig roam around while you clean the cage.
The cage also comes with guinea pig water bottle. To find out more about guinea pig water bottles, check out my article here.
Assembling Living World's Guinea Pig Cage
Now, there have been a few comments from people stating that the lack of an assembly manual makes putting this cage together a bit of hassle. However, in my experience, Living World's guinea pig cage is pretty easy to put together.
If you are wondering why you have to assemble cage yourself, it because of shipping, plain and simple.
Pro's and Con's of Living World's Guinea Pig Cage
Let's start on a high note, the pro's in my Living World Guinea Pig Cage Review:
Easy Set Up – The cage is really easy to put together. Living world states that set up should take under 10 minutes.


.

Tip Proof Food Tray – The food tray within the cage (mentioned above) is also a pretty nifty addition. Guinea pigs can be pretty curious little creatures and the last thing you want to be doing is cleaning the cage for unnecessary mess. There are two clips on the side of the food tray that clip onto the side of the cage itself preventing any tipping.


.

Price – The price of this cage changes on a regular basis so I can't give you an accurate idea as to how much this currently cost. However, I have yet to see the cage go over $200, which is good value for money in terms of cages.


.

Space – The size of this cage is also a pro (depending on how many guinea's you have). To refer to the actual dimensions, head back up to the top of the article 🙂


.

Easy To Clean – Due to the easy setup of the cage, cleaning shouldn't be a hassle. Simply unclip the roof and sides and wipe the interior down with a cloth.


.

Life Span – Okay, so just to be clear, I am talking about the lifespan of the cage, not the lifespan of your guinea pig in this cage. Due to this cage being an indoor cage, it is going to last a longer. This is largely due to the elements not taking their toll on the plastic structure unlike that of an outdoor wooden guinea pig house. Little tip, make sure you dry the cage thoroughly to make sure no water causes any rust on the metal bars.


.

Ramp – There is a ramp that leads up to the top of the hidey house portion of the guinea pig cage. Unlike most other small pets, a guinea pigs back does not support regular climbing so a ramp is the perfect option for getting access to higher levels within an enclosure.
Now, the con's in this living world guinea pig cage review. Now, personally I don't have any major problems with this cage beyond the design. So for this section, I had to do some searching and found other people's thoughts:
The Look – Honestly, I find the lack of appeal/the look of the cage a really big turn off for me. The grey finish is something I am not a fan of.


.

Lack Of Directions – A few people were frustrated with the lack of instructions for setting up the cage. Personally, I didn't have any problems getting the cage set up, but that's just me…


.

Miscellaneous –  Once again, I had to do some searching for con's/complaints when it came to Living World's guinea pig cage. There are few comments in regards to miscellaneous issues such as missing pieces, however, having shipped over 4,000 of these cages, these issues are bound to pop up. Typically these are resolved either via Amazon or via Living World themselves.


.

Water Bottle – So the water bottle that is included in this Living World guinea pig cage is not the best. There have been a few reports of the water bottle leaking and not holding as much water as it should. To check out my review on guinea water bottles, click the link here. 
Living World As A Company 
So, its only fair for me to review the company that makes a product along with my review of the product itself.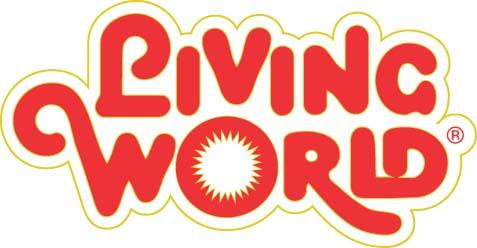 Let's talk about Living World! Believe it not, these guys are actually part of the largest pet product manufacturing company in the world. That company is called: Hagen. Hagen was created in 1955 by a man named Rolf C. Hagen. With a focus on animal welfare, Rolf created products for all types of animals that had a core line of sight when it came to animal safety. 64 years later and nothing has changed, apart from the company's size and scale.
In 1972, Living World was founded with a focus on birds and small pets. I think somewhere along the line (and I don't know where) Hagan bought Living World. Now, it goes without saying, that a company that is this big and has been around this long has developed a reputation, and a good one at that.
Other Articles On Guinea Pig Cages
If you are interested in some other articles focusing guinea pig cages, check out the following:
If you have any questions, don't hesitate to ask in the comments section down below. I love hearing from you guys and helping out where I can 🙂